It's time to report about my annual local jaunt to Six Flags St. Louis. My seven-year-old daughter received a free ticket through her school's reading program, so I joined her for a fun summer outing. I covered our trip last year, so I'll avoid repeating my assessments from that adventure whenever possible. I'll also release an episode of The Tomorrow Society Podcast next week that describes the top five attractions at Six Flags St. Louis. This article will go more in depth about the trip itself, which took place on a blistering Sunday several weeks ago.
Opening in 1971, Six Flags St. Louis is one of the three original parks built by the company. In fact, it's the only one that's still fully owned and operated by Six Flags. It's a park of blacktop and concrete, which can lead to brutally hot days. Thankfully, there are quite a few fun water rides and even Hurricane Harbor inside the park. Admission covers both areas, and it's easy to navigate between them. We just focused on the main park during this visit. Since my daughter is only seven, it's best not to pack too much into a single day.
The Joys of Arriving Early
It's common knowledge among Disney World fans that arriving early is the best way to avoid lines; it's no different with Six Flags. Last year, we arrived right at the opening time and encountered lines at every turn. I learned my lesson this time, and we pulled into the parking lot 30 minutes earlier. The park opened at 10:30 a.m., which felt a little late for peak hours. Even so, that is the typical operating time for the entire summer. We did not splurge for the unnecessary preferred parking zone and had no waits at security and through the turnstiles. By 10:15 a.m., we were standing near the "rope" well inside the gates and ready to rumble.
What made this choice so important was the way it affected the entire day's touring. We encountered few lines all morning and remained steps ahead of similar guests. My daughter wasn't ready for the major coasters, so the obvious first destination was Justice League: Battle for Metropolis. It's the park's only indoor ride and loads pretty slowly. We were about 10 guests from the front and walked right onto the vehicles. Lines were outside the large indoor queue throughout the day, so this was a brilliant move. Battle for Metropolis is the star of the park and a must visit. My review from last summer goes into more detail on its greatness.
A Different Type of Trip
For guests wanting to ride the headliners, the next touring steps after Battle for Metropolis would likely be the nearby Mr. Freeze: Reverse Blast followed by The Boss and Screamin' Eagle. Those two coasters are unique to this park and worth your time. For our purposes, my goal was limited walking and rides that interested my daughter. We quickly knocked out the slow-loading flat ride Shazam!. This scrambler is one of her favorites and was nearly empty. Our next stop was The Log Flume, a classic water ride through the rides. The opening day attraction is pretty tame but has a cool drop at the end. We closed out the early run with Pandemonium — a spinning coaster formerly named Tony Hawk's Big Spin. Despite only going about 30 mph, this ride packs a punch. My daughter is pretty daring but wasn't a big fan of this rough experience.
The good news was that we experienced all four rides in a little over 30 minutes. Our next stop was the massive Ferris wheel Colossus to slow our pace. I wouldn't recommend this move if you want to maximize touring, but it was necessary with a child. The 90-degree weather felt even hotter due to the park's set-up. I was aware of the signs my daughter was getting overheated and wasn't taking chances. Even under the rough Florida sun, Disney World and Universal Orlando give you opportunities to escape the heat. Those options didn't exist at a park like Six Flags St. Louis. Following the brief respite on the sloq ride, we were ready to get rolling again.
Who Wants to Get Soaked?
The one positive to visiting a hot park is the joy of riding water rides. They're less fun on a 60-degree day. The downside is long lines for those attractions because of the greater demand. We avoided the ridiculous drenching of the Tidal Wave but did board Thunder River. This standard river rapids ride developed a huge line by mid-afternoon but was a walk-on at noon. The extensive queue sits directly in the sun, so avoiding that logjam was a relief. Enduring the sun would eliminate the point of getting wet.
I really like water rides, particularly log flumes, but I have very bad luck on raft rides. I'm usually in the one seat that takes the brunt of the water. Thunder River did not take our raft under the waterfall that regularly soaked me as a kid. Even so, I was sitting in the dreaded rear-facing spot during the largest rapids. My head avoided a drenching, but that was the only saving grace. Being wet is usually nice is hot weather, but this water was strangely lukewarm. The result was less refreshing than you might expect. Still, I did enjoy the anticipation of giant rapids heading my way. The classic formula never disappoints, and my daughter loved it.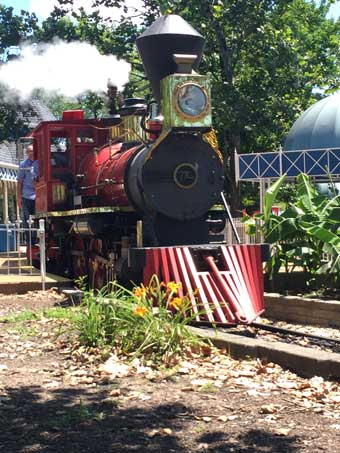 Hitting the Classics
Following a short snack break, it was time to check out more opening-day attractions from 1971. Our first stop was the River King Mine Train, a perfect starter coaster that offers a few cool thrills. The final tunnel as you drop "into the mine" still packs a surprising punch. It was a little jarring for my daughter, who has ridden smoother Disney World rides. Still, I'm glad that one of my first coasters still remains. It's a rarity in a park filled with more intense coasters. This attraction originally had two tracks, but the second one was shipped to other parks. It currently operates as Big Bad John at Magic Springs and Crystal Falls in Arkansas. Our next visit was the charming Tommy G. Robertson Railroad, which provides a relaxing view of the park. It connects nicely back to the park's early days.
We also rode the Grand Ole Carousel and the Moon Antique Cars, with mixed results. While both still have their charms, neither is working in peak form. The carousel looks worse for the wear and desperately needs a new paint job. It's still a fun ride but loses a little with the faded décor. More distressing is the old-time cars, which are a shell of their former self. American Thunder removed a large portion of the track and killed the atmosphere. Driving in a small loop surround by fences is sad if you remember earlier versions. It may be easier to just close this attraction instead of delivering a sub-par experience.
More Work to Do
I have few significant complaints about my latest trip to Six Flags St. Louis, but I've grown used to the issues. The food choices are still thin, and too many rides appeal to the same audience. It's the only show in town but is getting fiercer competition from Holiday World. TV and billboard ads are now common for that Indiana gem. Adding more shade and small touches that show a greater degree of care (like Holiday World does) would make a huge difference here.
Battle for Metropolis' popularity shows the potential for a second dark ride. A large shop or restaurant could go away and not kill the bottom line or the guest experience. I'm biased due to my regular trips to Disney World, but I don't think it's outlandish to expect more from a regional park. Carnival games are profitable but only on a short-term basis. It's the innovative attractions that draw the crowds.
Can Six Flags St. Louis take the next steps? It currently offers a fun day but not a refreshing atmosphere. It wouldn't take a massive overhaul. I sense a changing tide in the industry away from generic themes and standard coasters. Will Six Flags set the mold or fall behind the trends? They're taking a technological leap with virtual reality on several coasters, including the Ninja in St. Louis. However, that doesn't address the experience of many guests. This trip was a good time; I just wish it was great. I'll close this post with some additional photos from our latest trip to the 45-year-old park.
Learn more about Six Flags St. Louis at the park's official website.